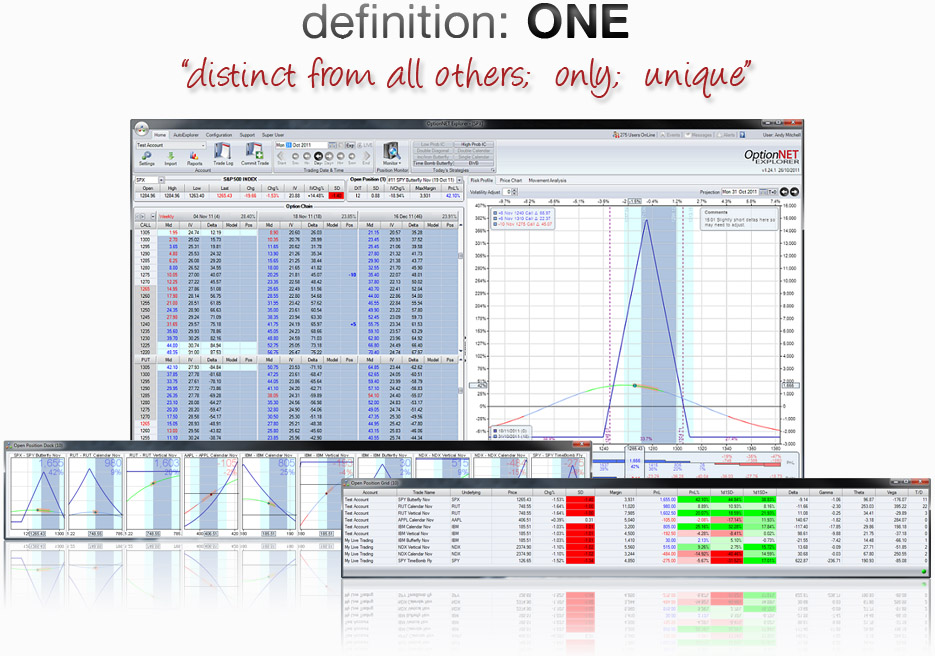 30,033,465


take your options trading skills for a test drive
Learning a new skill is never easy, but the right technology can often help. If you were learning to fly an aeroplane then you would significantly increase your chances of success (and survival rate!) if you could practise in a flight simulator first. Trading options is no different - it's about learning the key skills and practising to perfect them under different market conditions.
That's where a subscription to OptionNET Explorer (ONE) can help - combine the power of advanced backtesting software with the education from a leading expert. Stack the odds in your favour and be ONE step closer to becoming a successful options trader.
the only ONE you need
OptionNET Explorer is a complete options trading and analysis software platform that enables the user to backtest complex options trading strategies, analyze their results and monitor them in real-time, all from within a single, user friendly environment. Extensive historical options data is maintained on our servers so you don't have to worry about keeping your own database up-to-date.
All the benefits of an internet application but running directly from your PC, without the lag. User account information and backtest history are stored on our secure servers allowing you to access the same information from wherever you are, even on different PC's. No more copying files between your home and work machines.
If you are a part of a mentoring programme, ONE can significantly benefit your education by allowing your designated Mentor direct access to your problem trades facilitating timely analysis and recommendations.

design, test and monitor your positions
Design and backtest multiple options trading strategies for the same or different underlying symbols and switch between them with a click of the mouse. ONE automatically keeps track of all adjustments and commissions throughout the life of each position giving you the cummulative profit and loss figure, allowing you to concentrate on developing and then executing the best trading decisions.
Monitor all your option positions in real-time (broker data feed required) from a single window with no additional fees. All the information you need to make timely adjustment decisions is presented to you on a single window with visual cues to help you to identify when an adjustment is necessary.

lightning fast historical data in 5 minute intervals
We don't think you should compromise on the details when you design and backtest an options trading strategy. A lot can happen during the trading day and huge spikes can even occur within a 30 minute period which can often be the difference between a profit and loss. That's why we have market data in 5 minute intervals to give you a comprehensive view of the market coupled with unique tools to display that information to you, transforming your backtesting from a laborious, tedious chore into an enjoyable experience. This is one of the reasons why many of our users stay with us over our competitors, year after year.
ONE displays intra-day snapshots on average in less than a second. No more waiting around and interrupting your concentration - trading is hard enough as it is without your technology letting you down. That's ONE less thing to worry about.

simple, modern and continuously updated
Simple, intuitive and modern user interface enhancing the user experience. ONE uses familiar user interface controls found in the most popular windows software, thereby signifcantly reducing the learning curve often found with adopting new software.
Free upgrades for the life of your subscription. Everytime we enhance the platform you will automatically benefit from it. Some competitors charge extra for this, whereas we include it at no additional cost. Helping to keep you right up-to-date with our latest developments.

first class support
Fully integrated support suite allowing users to search our growing knowledge base for answers to questions, raise support tickets if and when problems arise and chat directly with our support staff. Plus, access online help documentation and instructional videos, all without leaving the platform, thereby accelerating you up the ONE learning curve. Customer satisfaction is our top priority.

ONE price with no hidden fees (not even for data)
Our pricing structure is very simple: ONE subscription fee - no extra charges.
FREE access to our historical data - in our opinion, there would be little point selling you options trading software without the data. That would be like giving you a car to drive without the engine!


FREE access to live or delayed market data - if you have an account with one of our preferred brokers, they will provide the market data for you. This could save you at least $1,200 a year!


NOW Send orders directly to your broker of choice from within our platform, finally giving you broker independence, ultimate flexibility and control over your options trading.

Sign up to our
mailing list